TURNING ENERGY INTO AMBITION…
One Awesome Kid At A Time.
This program combines obstacle course training, gymnastics, martial arts, and freestyle movement with the freedom for kids to progress and learn. Here at Gymnastics Unlimited, we offer BABY NINJAS classes (Ages: Walkers – 3 yr. old), LIL' NINJAS (Ages: 3-5) and NINJA TRAINING (Ages:  4 ½ -11).
All students begin NinjaZone in the WHITE level and move up according to their skills.
FOR CLASS TIME INFORMATION, PLEASE GO TO OUR PARENT PORTAL TAB (located on the HOME PAGE of our website.
NINJAZONE PRICING EFFECTIVE OCTOBER 1ST
BABY NINJAS (With a parent or adult) - 45 MINUTES - $70/MONTH
LIL' NINJA (3 & 4 year olds) - 45 MINUTES - $80/MONTH
NINJA'S (All levels ages 5 and older) - 60 MINUTES - $90/MONTH
MEET OUR NINJA ZONE DIRECTOR Brandon Conaway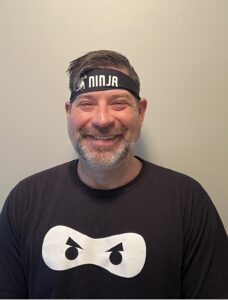 Brandon is the father of 7 children and is extremely active with all of their sports.  He has been our Ninja Director, as well as full-time coach for the past year.