Shamrock All-Stars Cheer Try-Outs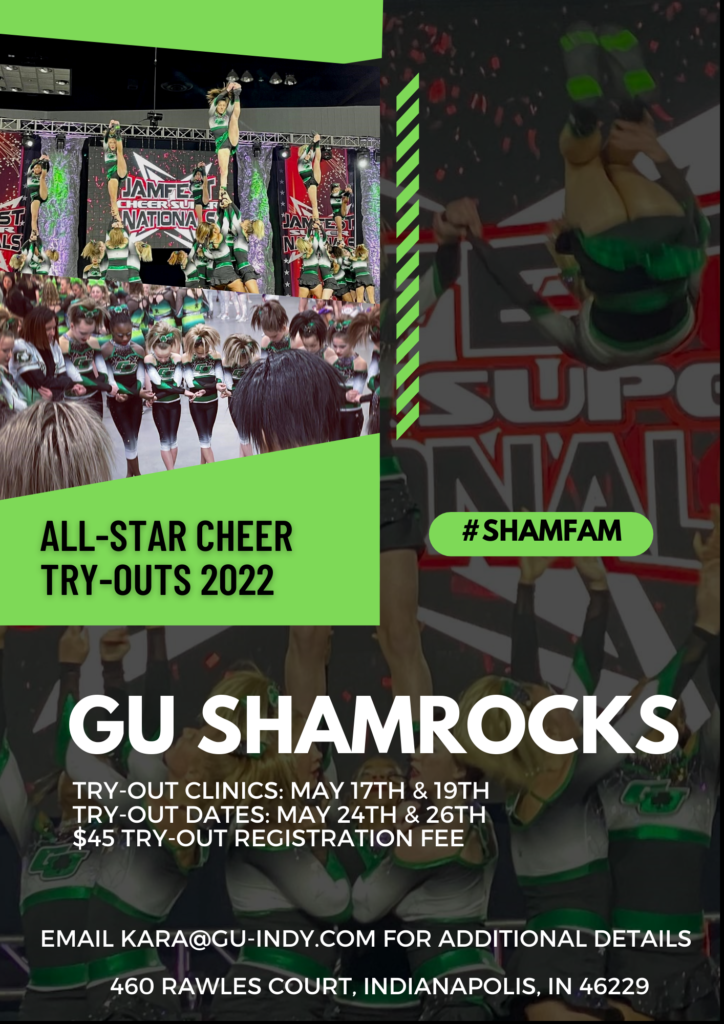 We want YOU to join our National Champion #ShamFam
Please Click Here if you are interested in learning more about our competitive all star cheerleading program.
Click Here to join our GU Shamrocks Try-Out BAND to stay up to date on all current try-out information
The try-out process includes 2 days of clinics (May 17 & May 19) as well as the final try-out evaluations (May 24 & May 26). You will attend the clinic and final evaluations based on your athlete's CURRENT age.
Tiny/Mini (3-6 years) 4:30pm - 5:15pm
Ages 7 - 11 years 5pm - 7pm
Ages 12 years & older 7pm - 9pm
At the try-out clinics our coaching staff will teach you the layout of the try-out routine as well as work with athletes on stunts, tumbling & jumps.
Previous cheerleading or tumbling experience is not required, but is encouraged.
PREP/NOVICE TEAMS
Our limited travel prep & novice teams compete locally throughout the competition season at 4-5 competitions. This is a great introduction into all star cheerleading for beginner athletes. These teams only practice 2x per week throughout the year.
REGIONAL & NATIONAL ELITE TEAMS
Our elite teams compete both locally and nationally at 8-10 competitions throughout the season. Our teams travel regionally & nationally to compete at the highest competitive level. Competing as an elite all star athlete takes high commitment & dedication.
Try-Out Routine Breakdown
Performing the try-out routine is required for all athletes ages 7 - 18 that are trying out for one of our Competitive Teams. Athletes ages 6 and under will attend the try-out clinics and "evaluations" in a practice format.
Every skill performed in your try-out routine must be consistent within the SAME LEVEL. Please review the sample routine videos & listen to the music. The routine will go in the order as written below. The routine music is designed so there are about 2-3 eight counts of rest between each section.
TRY-OUT ROUTINE ORDER
Running Tumbling Pass
1st Standing Tumbling
Transition Pass
Jumps
2nd Standing Tumbling
Dance
Click Here for a full breakdown and guidance on the try-out routine breakdown.
TRYOUT DANCE: Follow the links below to learn the Beginner or Advanced Dance for your try-out routine.
ROUTINE EXAMPLES: Follow the links below to review examples of each level routine.